Innovati

Innovati is a company 100% Spanish that offers to their clients advanced ICT solutions in areas like security and systems integration. Even as a SME, Innovati has support from a staff of near 100 employees, and offers the endurance needed to currently have the trust of big clients for suppling technical services. This is the case of big national companies like IECISA, INDRA, Everis and international ones, like Alcatel and Atos.
Innovati is known by its interest and impulse for discovering new advanced technical solutions, which obligates to continuously invest in R&D activities, as well as to exploit the know-how in an efficient way. This strategy allows Innovati to be a company of high competitiveness and market specialization.
Values like responsibility, innovation and creativity, flexibility, team motivation, quality, technical knowledge and management excellence allow to offer services of software development in any scope and size with total satisfaction of the clients.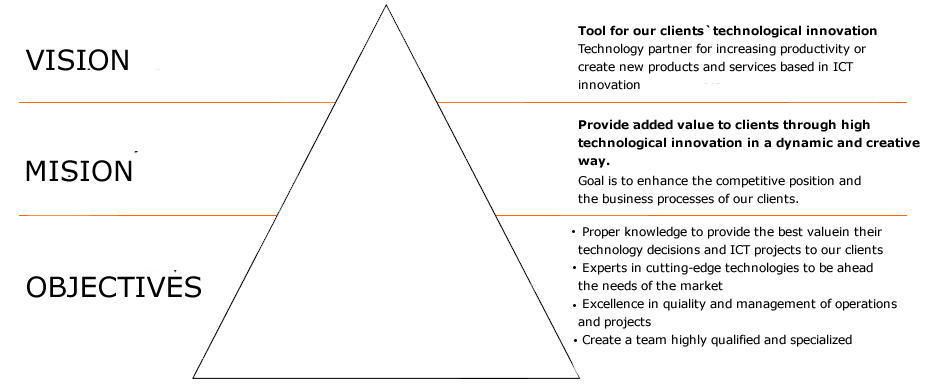 The company's culture, knowledge, suitable size, motivation and orientation towards the client make Innovati's team to fully involve in each project, flexibly adapting and contributing with innovative ideas to solve our clients' problems. In this way, it is developed a commitment both with society and the clients, to offering innovative, creative and sustainable solutions in different industrial and social areas with major technological challenges: Health, Accessibility, Transport, Security, Energy efficiency, Environment, etc.
Experience in R&D
Innovati's research team has been successfully involved as partner and coordinator in several R&D projects from its very beginning. That fact gives to the company the ability to carry out the needed research and technical development activities of the current project. It is important to highlight the active involvement in dozens of research projects, both from international and national scope, in many National and International Programs for R&D (Plan Avanza I+D, Eureka, Iberoeka, EU's Framework Programme, CIP, etc.), and the leadership in six of them, some with budget up to 7 million euros and more than 20 organizations involved.
Internationalization
Innovati counts with several branches at national level, and even international, having infrastructure and technical team available in Mexico.